Welcome to Your Martial Arts School
---
Arm Yourself with Life Skills
Golden Leopard Kempo opened in October 1992, under the direction of Bryan Bagnas. Since that time, we have progressed to become one of the most honored and respected schools in San Diego. Click here for your personal invitation to our school.
Without philosophy, Martial Arts would be little more than street fighting. At Golden Leopard Kempo we teach and emphasize a series of basic life skills that challenge our students throughout not only their Martial Arts training but also their everyday lives. Our Little Leopard (age 3 - 5) and Kempo Kids (age 6 - 11) students are taught to be respectful and polite towards their parents, siblings, teachers and elders. They are also taught the importance of learning and doing their best in school.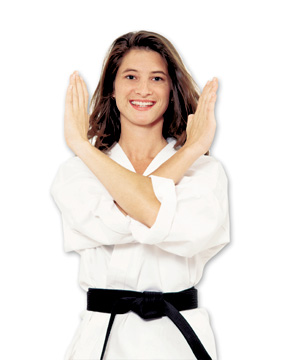 I didn't think I could learn Kempo, but I can. Now I feel great. And it works too.
Our Teenage and Adult Students are taught to set achievable goals and that hard work does have its rewards. Through the Martial Arts they become more confident and develop an attitude of self-reliance. This increase in confidence enables them to better cope with issues of peer pressure and helps them make correct choices. Our primary philosophies are embodied in our Student Creed:
My art is Karazenpo Go Shinjutsu.
I come with Love and Respect.
If I have to defend myself, my family, my principles or my honor,
Karazenpo Go Shinjutsu will be my weapon.
I will not in any way abuse what I have learned.
We believe in the above creed, and it embodies the philosophy we stand for. However, this is not a boot camp, the Japanese army, a Zen Buddhist temple, or a Shinto shrine. We strive for discipline without humiliation, character development without oriental religious trappings. Personal growth is the goal to which we all aspire, and continue to pursue.
We are a Black Belt School
Many people misunderstand the concept of the black belt. A black belt, itself, is not the ultimate achievement in the Martial Arts. There are actually 10 different levels of the black belt, the first of which signifies that the student is ready to begin the advanced level of training. It takes approximately 3 years to achieve the first level of black belt, and every new student should look at this belt as a realistic goal. Remember, goals are needed in order to keep you focused while you are acquiring the skills needed to achieve them. Much like college, the goal of an Associate Degree helps keep you motivated to complete your two years of study, enabling you to realize some tangible benefit for your efforts. Think of your black as a 3-year degree.
Students are expected to set goals and commit themselves to achieve them. Individuals, who wish to become Golden Leopard Kempo students, should expect to attend at least two classes per week.
Our classes are taught by certified black belt instructors, who care about their students and conduct themselves accordingly. They help students to learn and to improve themselves through positive support and encouragement, not through intimidation! Please feel free to ask our instructor any questions that will assist in your decision to make our school your place to train. Come and join our family and remember, teaching and helping you is the reason we are here.
How to Contact Us
We invite you to come and visit our facility and consider enrolling in one of our outstanding programs. You can also call us on the phone at: (619) 213-6972 San Ysidro Location, we answer it from 9:00 A.M. till 9:00 P.M. daily. You can email us at sifu@goldenleopard.org

Thank you for visiting our website, we hope that we have provided you with enough information to help you in your search for a Martial Arts training school. We hope to meet you in the near future.

Interested? Read more about us | Personal Invitation | Children's Program | Adult Program | Little Leopards