Golden Leopard Kempo
Top News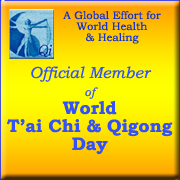 Sifu Bryan Bagnas has been involved with Tai Chi since his first class back in 1994. At that time, he supplemented his Hawaiian Kempo training with the Yang Style Tai Chi classes. In 1995, he learned Fu Style Tai Chi along with the family's other internal arts.
Inspired by the World Tai Chi Day (WTCD), Mr. Bagnas held his first event at a local park in 2001 and has continued the practise every year since. Golden Leopard Kempo, Mr. Bagnas' school in San Diego, now offers free Tai Chi classes to students during the run up to WTCD.
The event is held the last Saturday of April. Please support the school and the world by showing up and practicing your Tai Chi.

The International Alliance Of Martial Arts Schools (IAOMAS) is a student support system. Nothing very flashy, just the co-operation of Martial Arts schools worldwide to allow all martial arts students to continue to train wherever they go (i.e. on holiday, vacation, work, etc.). It's good for all students involved (through the club) and good for instructors to be able to offer training where ever their students are in the world. In a nutshell, you get two-weeks free training at participating schools.
This Kempo web site is a free service to all Golden Leopard Kempo students and the entire Internet community. If you are in the San Diego area, please call us at 619-213-6972 (San Diego/San Ysidro Dojo). We welcome all visitors and enjoy the company of guest instructors and fellow martial artists.
The intent of our presence on the Internet is to provide information about our school and our martial art style of Karazenpo Go Shinjutsu - Hawaiian Shaolin Kempo. If you are unable to find what you are looking for, please contact us.
Mission Statement: Golden Leopard Kempo teaches the venerable art of Karazenpo Go Shinjutsu - Hawaiian Shaolin Kempo to those dedicated students who wish to learn; in order to propagate and pass on the true art.
Key Links
New GLK Blog is now available. Fifthteen years of the Leopard Pause newsletters from GLK, sadly we have discontinued producing them.
GLK joined IAOMAS, a worldwide student exchange association. Hopefully it will be of value to you and our students around the world.
From the Headmaster: The entire Golden Leopard Kempo organization and community send our thoughts and prayers to the Armed Forces men and woman serving our country so valiantly. May you all come home safely. We support our troops.
Another quick announcement: We're still in the process of organizing a visit from special guests like Grandmaster Gascon and others. Please take the time to either donate a few dollars or buy something from our wonderful online proshop. Donations will be accepted too.
Web site hosted and designed by Bagnas Creative Solutions
Golden Leopard Kempo name, and the Golden Leopard Kempo logo are owned by Bryan Bagnas. Used in only in San Ysidro and San Diego under license.
COPYRIGHT © 1997-2009 Bryan Bagnas, ALL RIGHTS RESERVED.