Contact Us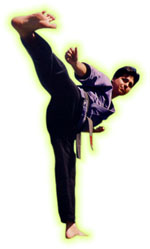 If you're in the San Diego area, please stop by for a visit. San Ysidro is aproximately 15 miles from downtown San Diego. Members of the Karazenpo Go Shinjutsu `ohana, please ask for Sifu Bagnas. You'll be put in contact with him as soon as possible.
Golden Leopard Kempo
3268 Glancy Drive
San Ysidro, CA 92173

(619) 213-6972
Sifu's mobile phone. Best way to contact him.
Our dojo is open to the public. If you'd like to become a member, please send a letter of request to Sifu Bagnas. Email is prefered. (Since you're viewing this on the web, we assume you have access to an email account.)
Sifu Bagnas is limiting the new class to ten dedicated students. Call and find out if space if available in his popular group class. Private students will be accepted with a letter of recommendation or special permission. Special consideration is provided for Kempo black belts wishing to train with Sifu. If you have any questions, feel free to email Sifu.